Wednesday, Oct 2: Johannesburg – First Impressions
After arriving in Johannesburg at OR Tambo International, the first thing we needed to do after getting through all the customs stuff was to meet up with Jacqui Wiles. Jacqui and D'Arcy became friends through their blogs on houses. So here we were, meeting someone we had only talked with online, halfway around the world from our home. And we were to stay in her home for a couple of days. And then we would be going to Kruger National Park with her and her husband Kevin.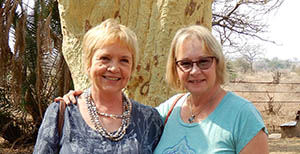 Having read many of the posts Jacqui had written in two different blogs, I knew this would be someone I would feel comfortable being around. And I was right. Jacqui had taken the train to the airport to greet us and help guide us through the maze that is traffic in the greater Johannesburg area, a metropolitan area of more than 10 million people. We had a good idea about how to get to the house, thanks to Google Maps, but having someone who knew the best way was a lot nicer.
Jacqui is brave, too. After we got the car rental all set and picked up our car, an Opel SUV, Jacqui hopped into the car and guided me to their home. It was the first time I had driven a car with the steering wheel on the right side and cars on the opposite side of the road from home. So what could go wrong? Absolutely nothing!
Well…there was the moment in thick traffic when the truck in front of us decided to stop quickly in the middle of the road. No tail or brake lights. The Opel's brakes and my reflexes were good. Jacqui's only comment was "welcome to driving in South Africa." [Side note: after driving in Johannesburg and Cape Town and all points between, I think I am certified to drive a cab in New York city or Washington, DC.]
The drive from the airport to Kevin and Jacqui's home led us along a freeway to a highway to local roads to residential streets. We passed new construction, fancy buildings, fancy homes, cardboard and tin shacks, and everything between. We passed by familiar businesses, such as BP gas stations, KFC restaurants, McDonalds fast food, and others.
We drove through neighborhoods that were about as different as could be imagined from things where we live. Nice houses that I would call compounds if they were anywhere else—tall walls surrounding properties with razor wire, electrical fence wires, or both. Signs from security companies such as ADT saying things like "immediate armed response" were everywhere. Then suddenly we would see the places where many people lived in barely more than corrugated tin and pallets structures (no plumbing or water, but electricity).
Jacqui and Kevin have a beautiful home. D'Arcy came across one of Jacqui's blogs (https://homeinthemaking.me/) a number of years ago. Jacqui had been writing about remodeling and building a new home.
It is a great blog! And it was fun for us to actually see the finished home. They did a fantastic job. And the view from the backyard overlooking the park is wonderful. It was difficult to believe the house is in the middle of an urban setting.
It all quickly reminded me that South Africa is a land of the haves and the have nots. There are many blacks, whites, and Asians in South Africa making good incomes. We saw people of all colors driving BMWs, Audis, Porsches, and Mercedes in the bigger cities. These cars cost a hundred times or more than what the poorer people will ever make in a year. Those were the haves. Then the have nots. Almost a quarter of the people in South Africa, mostly black, make less than $380 a year. We saw many of the poorer people standing at corners and in the streets of town selling everything from brooms to flowers to stickers. More on that a bit later in a different post. But back to our hosts.
I quickly became fascinated by the weaver birds in the trees around their yard. We have birds where we live, but nothing like the weavers. A male weaver builds the nest. He is very careful about what he does. When he is done, the female will inspect it. If she doesn't like it, she will rip it apart. Talk about pressure.
Birds were everywhere. Here are just a couple.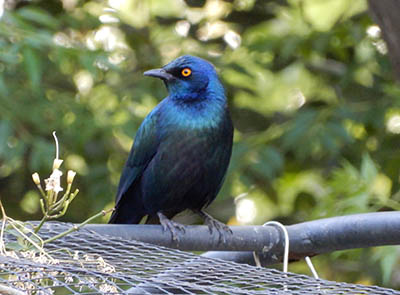 Our first day in South Africa felt good. We were a bit tired from all the travel, but our hosts were beyond expectations. Quite gracious and, I believe, great ambassadors for the country they live in. We knew our time in this far-away place was going to be good.